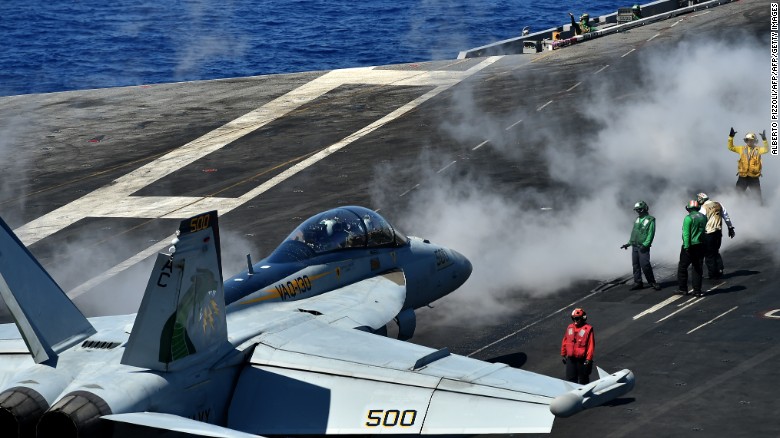 Forces Ready In 'Weeks' For Battle To Retake ISIS Capital:
Defense Secretary Ash Carter said Wednesday it will be only a matter of weeks before the US and its allies are ready to drive ISIS from Raqqa, its symbolic capital in Syria.
The preparations come amid fears the terror group is plotting an attack somewhere around the world from inside the city.
Carter told reporters at a NATO meeting in Brussels that getting troops in place for the siege of Raqqa would be undertaken within weeks but declined to offer more specifics.
The plan "has us generating those forces in a matter of weeks … generating them and positioning them for the isolation of Raqqa," Carter said.
Cubs Level World Series With First Fall Classic Win Since 1945:
As of last week, it seemed next to impossible for Kyle Schwarber even to play in the World Series.
Now, improbably, Schwarber, who underwent surgery for a torn ACL and LCL in his left knee less than seven months ago, has helped the Chicago Cubs even the series against the Cleveland Indians, giving the Cubs their first win in a Fall Classic game in 71 years.
Schwarber had two RBI singles, Anthony Rizzo drove in a run and scored two more, and Ben Zobrist chipped in with an RBI and a run, and the Cubs leveled the best-of-seven series, winning 5-1 in Game 2 at Progressive Field in Cleveland.
'Keeping Up With The Kardashians' Filming Remains On Hold:
It's unclear when E!'s cameras will once again be keeping up with the Kardashians.
Production on the E! network's reality hit starring the Kardashian family remains on hold days after star Kim Kardashian West was robbed of over $10 million worth of jewelry while in Paris.
"Kim's well-being is our core focus right now. No decision has been made as to when production will resume," an E! spokesperson told CNN.
On October 3, Kardashian West was robbed at gunpoint by a group of men who stormed the private apartment where she was staying.
The star, who was restrained in the bathtub during the incident, was physically unharmed but left shaken, according to her representative.
Early Voting Numbers Show Clinton's Strength In Arizona, Other Battlegrounds:
Hillary Clinton's campaign has reason for optimism in several swing states — and appears to have turned Arizona into a battleground — as millions of Americans vote early.
More than 7.3 million Americans have already voted. Democrats have improved their positions in North Carolina, Nevada and Arizona compared to this point in 2012, according to a CNN analysis of the latest early voting statistics.
Republicans, meanwhile, have good news in Iowa. Republicans have improved their position there over 2012 — backing up the polls which suggest it could be the easiest state won by
President Barack Obama
for Trump to flip this year.
Justin Timberlake Not In Trouble For Voting Selfie:
It turns out the selfie Justin Timberlake took is "Not a Bad Thing."
There had been some question about whether the singer was in trouble after snapping a photo of himself inside a polling station in his hometown of Memphis, Tennessee.
The singer had flown into town from Los Angeles to participate in early voting there where he's still registered. He posted the now-deleted photo on his Instagram account with a caption encouraging others to vote.
CLICK HERE to read story
source: CNN.com
5 Things To Know For Your New Day — Thursday, October 27  was originally published on praisecleveland.com
Also On WERE-AM 1490: