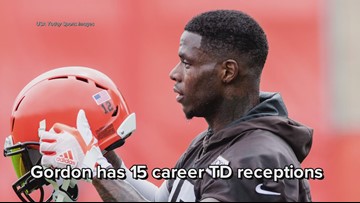 via Wkyc:
Following his announcement that he won't be attending the start of Cleveland Browns training camp later this week, little else has been revealed regarding Josh Gordon's unexpected absence.
This much, however, appears to be clear: the former All-Pro hasn't failed another drug test, nor is he in danger of being suspended. According to ESPN's Adam Schefter, Gordon's leave is "a pro-active, defensive gesture to get extra counseling to try to ensure he does not have any of the setbacks that have marked his past."
Added Schefter: "Those who know him say he has 'worked his a— off.'"
NFL.com's Tom Pelissero corroborated Schefter's report, stating that per a source, Gordon is "absolutely not suspended" and that the Browns have "no plans" to move on from the 2013 Pro Bowl selection.
Although from a football standpoint, Gordon's absence isn't ideal, the news that he isn't in fact facing another suspension obviously comes as good news for the Browns. After appearing in all 16 games as a rookie in 2012, Gordon has yet to play in an entire season since, with substance abuse issues and suspensions costing him a total of 54 games between 2014-2017, including the entireties of both the 2015 and 2016 seasons.
CLICK HERE to read story
LOCAL NEWS: Cleveland Browns WR Josh Gordon Hasn't Failed A Drug Test, Isn't Suspended  was originally published on praisecleveland.com