Sports fanatic Lil Wayne doesn't just show up for the fellas.  He hit the sidelines of the 2011 WNBA finals Friday night in Atlanta.  And rocked some interesting cutoff shorts and his LYNX jersey.
Deets inside…
The Minnesota Lynx swept the series against the Atlanta Dream on Friday night in the ATL to become the 2011 champs.  And hipster Weezy was spotted courtside cheering on his fave team the LYNX.  And showed love for his fave star player Seimone Augustus rocking her #33 jersey.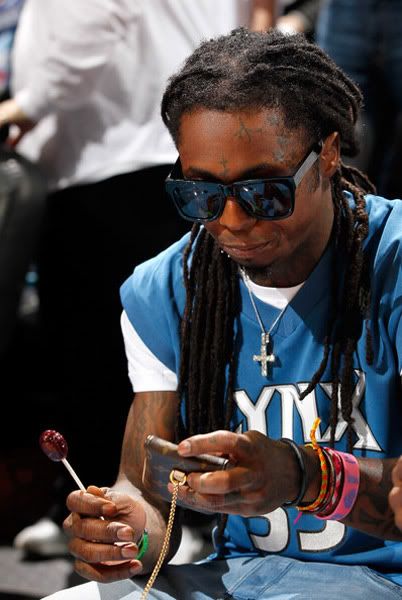 And chilled with his blowpops and LV case and Gshock watch.
And in case you haven't heard, self-proclaimed King of Miami Uncle Luke issued a warning to Weezy and other rappers who rep the MIA hard, but don't seem to give back to the city charitably.  Can't believe these dudes are really beefing like this over something that should be good:
"I've got a message for Lil Wayne, his Cash Money Brothers, DJ Khaled, Puff Daddy and all the rappers from other parts of the country who now live in Miami," Luke told the Miami New Times. "I'm tired of seeing these cats using up our beaches, soaking up our sunshine, taking over the nightclubs, and sleeping with our women without investing anything into the community."

"I want to know when Lil Wayne is going to do more than show up courtside at the American Airlines Arena" Luke continued. "H-ll, it's not like he paid for them anyway. You know he got comped. This free loading and mooching of my city has got to stop. There used to be a day when out of town rappers were scared to throw their weight around Miami. It didn't matter if they were coming from New York or Los Angeles, they knew better than to act like they owned this mother f–ker."

"I'm giving them a deadline" Luke warned. "They got until January 1. If I don't see them giving back to the Magic City, I'm gonna have their Miami cards revoked. They won't be getting into any more nightclubs. They won't be able to go near our women. And Lil Wayne is gonna have to find floor seats for New Orleans Hornets home games because he won't be allowed inside the Triple A."
Alrighty then….
Via Theybf
[ione-gallery id="452617″ src="http://hellobeautiful.com"%5D