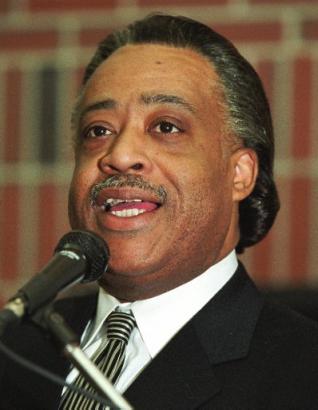 The Rev. Al Sharpton will visit an Indianapolis church July 11 to hold a prayer service and address the Brandon Johnson excessive force case.
Sharpton, president of the National Action Network, will be at Eastern Star Church, 5750 E. 30th St., at 7 p.m.
Jeffrey Johnson, senior pastor at the church, said he was asked by leaders with the Baptist Ministers Alliance of Indianapolis & Vicinity if he would host Sharpton. Eastern Star can seat 2,500 people.
Jeffrey Johnson spoke to Sharpton on the phone and explained the Brandon Johnson case to him. Brandon Johnson sustained cuts and bruises to his face, including a badly swollen eye and chipped tooth, after being arrested for disorderly conduct on May 16 in an Eastside neighborhood.
After an internal investigation, Police Chief Paul Ciesielski recommended that one of the five officers at the arrest be fired.
Several black spiritual leaders were dissatisfied with the finding and said that all five officers should have been fired and forced to apologize.
Jeffrey Johnson said Sharpton agreed without hesitation to come to Indianapolis. Sharpton's office in New York City confirmed he will visit
"He will fly in and lead us in prayer for all the youth and children of Indianapolis," Jeffrey Johnson said.
The ministers' group formally announced the "Together We Stand" prayer and worship service late this afternoon in a news release.
During the event, Stephen J. Clay, president of the Alliance and senior pastor at Messiah Missionary Baptist Church, will unveil the "Stop, Chill and Think" non-violent campaign in an effort to curtail violence, the release said.
"Everyone in the community is invited to attend and parents, grandparents and concerned citizens are encouraged to bring their children to this worship service for a time of prayer and encouragement," the release said.